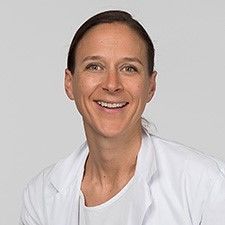 Senior Physician, Institute of Anesthesiology, University Hospital Zurich
After studying human medicine at the University of Zurich and Humboldt University in Berlin, Salome Meyer completed the state examination in Zurich in 2004.
In 2005, she began her specialist training at the University Hospital Zurich's Institute of Anesthesiology. Through this training and other rotation programmes, she gained a broad basic knowledge of anesthesiology and received the SGNOR emergency physician certification in 2007 and the FMH certification in anesthesiology in 2011. Following a one-year fellowship in intensive care medicine in Melbourne, Australia, she also obtained the FMH intensive care certification in 2012.
Since 2012, Dr Meyer has been senior physician in anesthesiology at the Institute of Anesthesiology. In addition to her work in general anesthesiology, she is a member of the IFA children's group.
Dr Meyer has also provided special anesthesiology and analgesia services for the treatment of maternity and foetal patients at the Center for Fetal Diagnosis and Therapy at the University Hospital Zurich since 2015.