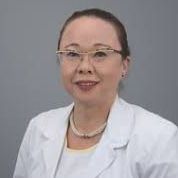 FMH-certified obstetrician and gynecologist
Head of obstetrics, women's clinic, Spital Thurgau AG
Co-Head Physician Gynecology & Obstetrics, Cantonal Hospital Frauenfeld
Associated Senior Physician, Obstetrics Clinic, University Hospital Zurich
In 2008 Margaret Hüsler, together with Nicole Ochsenbein, established the use of fetal endoscopy in Zurich.
She has a special interest in fetal diagnosis and therapy. From 2006-2007 she was a fetal fellow at the Children's Hospital of Philadelphia, USA, under Prof. Scott Adzick and Prof. Mark Johnson. There she participated in open and endoscopic fetal Surgery.
She was involved in the evaluation and management of fetal malformations and counseling of the affected parents. Since 2008, Dr. Hüsler has been performing fetal endoscopies for complicated monochorial twin pregnancies together with Dr.Prof. N. Ochsenbein and Dr. Krähenmann at University Hospital Zurich.

Margaret Hüsler has been working as chief physician for obstetrics at the Cantonal Hospital Frauenfeld since summer 2021.